Welcome to
Holy Cross Abbey Whitland
Holy Cross Abbey is set on the side of a hill overlooking a broad valley with the Preseli Hills as a backdrop beyond. It is a place of peace and great natural beauty and provides a perfect environment for a monastic life of prayer and praise: a place of rest and refreshment for those who visit us. We are about 5 hours from London, 2 hours from Cardiff, by road or rail, but a million miles away if you compare the bustle of capital city with the gentle landscape of Pembrokeshire in West Wales.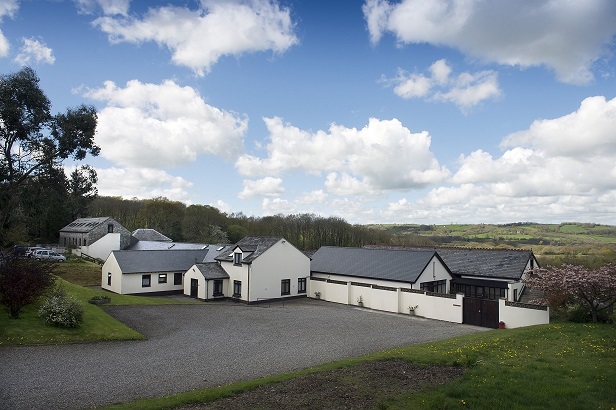 Based on the new regulations from the Government and the Church, from now on until further notice, booking for Mass and private prayer is not required.

We welcome new visitors, please leave your names and your telephone number upon arrival so that we can notify you in the event of there being any contact with a suspected case of Coronavirus.

Following the guidelines from the Church,
wearing face coverings is optional from Sunday 20th March 2022.

Please sanitise your hands when you enter the church and when you leave, and respect others' social distance.

Thank you for your help.


* * * * * *
Although we cannot all be in church together we can be united in spirit and in prayer. We hope you and your loved ones are keeping safe & well and our hearts & our prayers go to all who are ill at this time. We are looking forward to when we can pray together, until then we will keep you all in our prayer.
---
Please pray with us to Mary for the end of Pandemic.
Pope Francis's Prayer to Mary during Coronavirus Pandemic
O Mary, you always shine on our path as a sign of salvation and of hope.
We entrust ourselves to you, Health of the Sick, who at the cross took part in Jesus' pain, keeping your faith firm.
You, Salvation of Your People, know what we need, and we are sure you will provide so that, as in Cana of Galilee, we may return to joy and to feasting after this time of trial.
Help us, Mother of Divine Love, to conform to the will of the Father and to do as we are told by Jesus, who has taken upon himself our sufferings and carried our sorrows to lead us, through the cross, to the joy of the resurrection. Amen.
Under your protection, we seek refuge, Holy Mother of God. Do not disdain the entreaties of we who are in trial, but deliver us from every danger, O glorious and blessed Virgin. Amen.
(Adapted from Vatican news)
Download the Prayer in pdf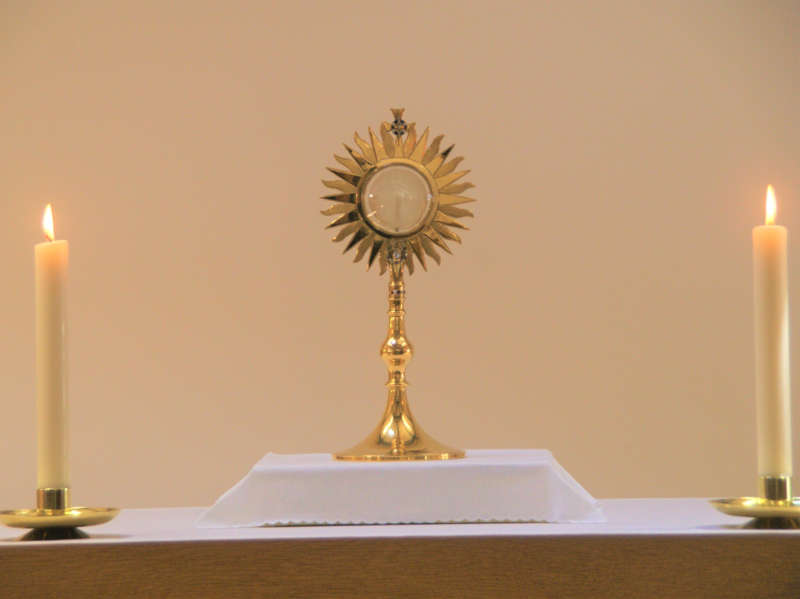 In union with all the prayers of the faithful over the world, we offer our prayer in front of the Blessed Sacrament every day from 4.45pm to 5.45pm.
We pray especially for all those who are suffering due to the Coronavirus.
We pray for a speedy end to the Pandemic.
Lord, have mercy on us all.
---
A Prayer for everyone at this difficult time
by Dr. Sam Wells of St Martin-in-the-Fields
God of healing and of hope,
in Jesus you meet us
in our places of pain and fear.
Look with mercy on those
who have contracted the new virus,
on any who are vulnerable,
and on all who feel in danger.
Through this time of global concern,
by your Holy Spirit,
bring out that which is best in us,
not what is worst.
Make us more aware of
our interdependence on each other,
and of the strength
that comes from being one body in you.
Through Christ our wounded healer. Amen.

The community's main source of income comes from making & selling altar breads.
Due to the coronavirus pandemic all churches have since been closed to the public services resulting in loss of this vital income for our community.
We need your prayers & support.

We are creating new ways of making items for sale. Please see our SHOP web page
Please go to our DONATE Web Page for details.


We will remember you in our prayers.

Thank you very much.
Thursday 30th June
Fr Liam Bradley Mass 8am

Sunday 3rd July
Fr Liam Bradley Mass 9am

Tuesday 5th July
Fr Liam Bradley Mass 8am

Thursday 7th & Friday 8th July
Fr Liam Bradley Mass 8am

Sunday 10th July
Fr Brett Adams Mass 9am

*** Days not mentioned above
Eucharistic Service 8am


Following the guidelines from the Church,
wearing face coverings is optional
from Sunday 20th March 2022.


May God bless us all.
Weekly Thought
Prayer, including liturgical prayer, takes first place in the 'opus Dei'
– meaning the 'work of God' in the wider, all-embracing sense of the word.
It is the work of God in the monk as well as the monk's work for God.
Benedict says that the senior who is assigned to look after newcomers
is to be concerned about 'whether the novice truly seeks God
and whether he shows eagerness for the work of God…'.
Seeking God is thus linked up to the work of God.
Korneel Vermeiren OCSO, Praying with Benedict